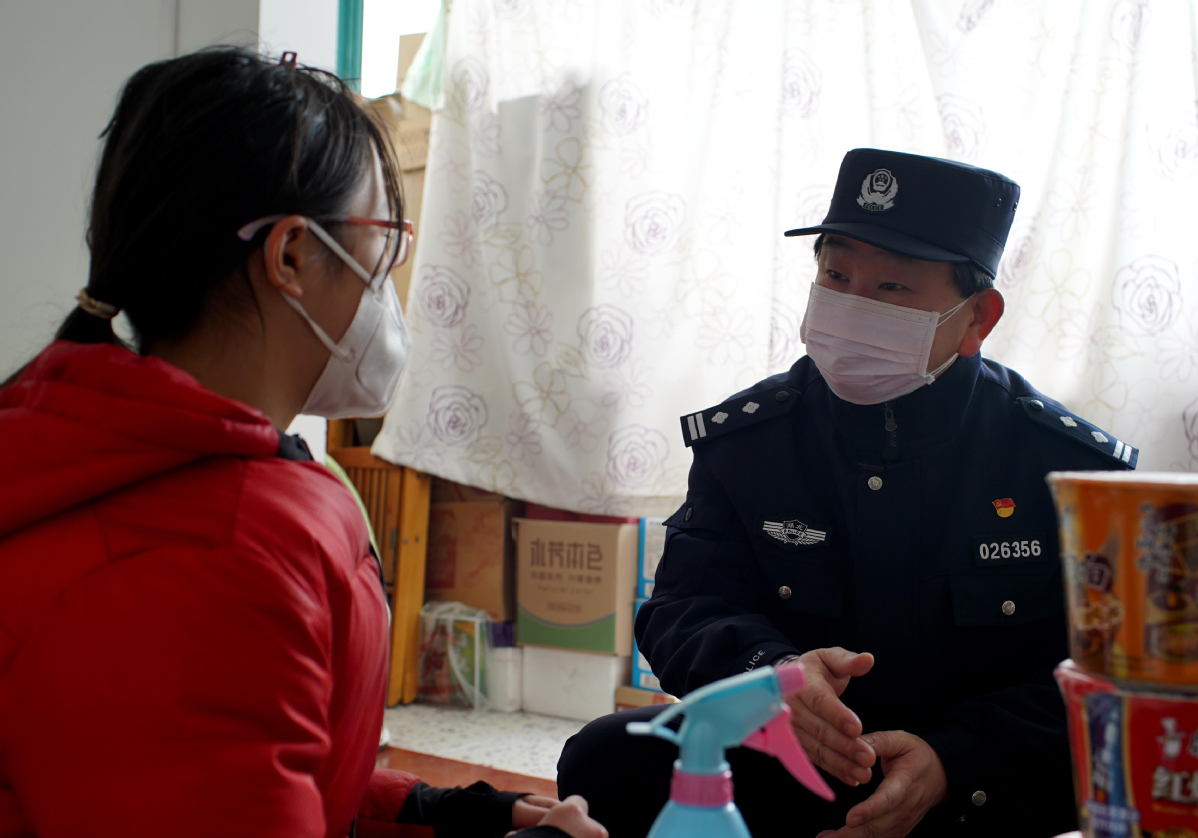 Yang Xiulin, a policeman in Wuhan, Hubei Province, chats with 13-year-old Song Xintong, whose parents and grandparents were isolated due to novel coronavirus infections. [For China Daily]
Yang Xiulin — a policeman in Wuhan, Hubei province, epicenter of the novel coronavirus pneumonia outbreak — has a new title.
The 56-year-old veteran, who became a community policeman after retiring from military service in 1998, is well known in his jurisdiction as the "temporary dad" of Song Xintong, a 13-year-old girl who has been alone at home since her parents and grandparents were put in isolation after being infected by the virus.
Song's mother, Liu Jing, was hospitalized on February 7, a few days after her husband and parents-in-law were isolated. When she went to the hospital for treatment, Liu worried about her daughter and approached Yang for help.
"Liu asked me whether I can help look after her daughter during her absence. I sympathize with the family, particularly the little girl, and I agreed," Yang told China Daily.
Since then, Yang has taken care of the girl despite his busy job.
"The girl was not in good condition at the beginning. She sobbed, feeling heavy psychological pressure," Yang said. "After all, she is at an age where she needs to be attended to."
Yang cares for Song's health and safety, and he provides three meals a day and daily necessities.
"Keeping in mind she lives in an environment where confirmed patients were found, I ask her to check her temperature every day," Yang said, adding every time he hears she has a normal temperature, he breathes a sigh of relief.
He delivers packaged food to Song for every meal. If he is busy, Yang entrusts his colleagues or community workers to do that for him.
"I worry about her safety very much. She is too young to know how to use electricity and gas for boiling water or cooking by herself, so I showed her how to operate a gas-powered oven and kept reminding her of safety," Yang said. "If I happen to be free, I will cook some noodles or fry eggs for her."
Getting along with the girl for almost two weeks, he feels she is getting better. She has online courses every day and calls her mother from time to time.
"Thank God, the girl is in good health so far," Yang said.
Zhu Haibo, Yang's colleague at the police station, told China Daily that it's not the first time Yang has acted as a temporary father.
A few years ago, a drug addict in the community was forced to receive treatment at a compulsory rehabilitation center, leaving his son alone after his wife left home. At that time, Yang offered to take care of the boy, Zhu said.
"Yang is very kindhearted, patient and responsible, and he has the merits a community policeman should have," he added.
Yang said he hopes Song's parents can recover soon.
"When they get back home, my role as a 'temporary dad' as it's described will end," he added.
(Source: China Daily)